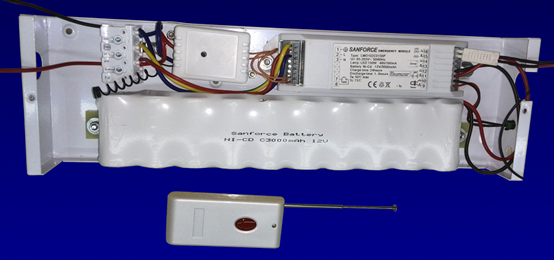 Overview:
Customer needs a special emergency power supply to be installed at a height of 7 meters of hotel hall. The emergency function needs to be tested time to time. It is dangerous and inconvenient for testing the emergency unit by ladder. We designed a complete set with remote controller for testing.
Challenge:
Normal practice for testing emergency function is to press test switch physically, but not for high building which is unreachable. Electrician needs to use ladder or something else to touch the emergency kits and this process is dangerous and inconvenient. Now, we have to overcome the difficulty. Our Engineer introduced the remote controller to connect with the test switch but it required to solve the problem of adaptability and applicability between both the devices.
Result:
Easy operation for testing emergency function whenever customer needs. The emergency module is compatible for all building types, especially for the church, theaters, auditorium and building with high ceilings. It is very convenient and safe for usage guaranteeing the safety of occupants.
How we did it:
Communicated with the customer to find out the precise requirements. Due to excellent design and development team along with strong supply chain in Shenzhen marketing, we got it figured out and solved the problem successfully.