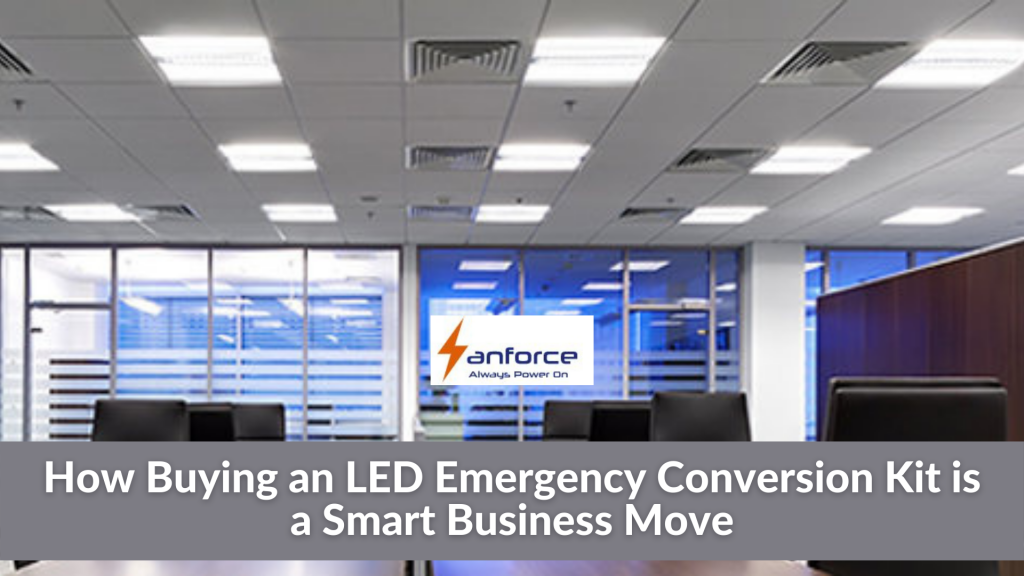 LED emergency lights are being used by businesses for work continuity. Since they use LED technology, there will be a significant reduction in energy usage and their emergency feature will allow the system to provide illumination even when there is a disruption in the main power supply.
If your business LED system is not capable of operating in emergency mode, then buying an LED emergency conversion kit will be a smart business move for you.
What is an LED emergency conversion kit?
An LED emergency conversion kit or LED emergency power pack is an inverter along with a rechargeable battery that is used to convert normal LED light to emergency.
Such emergency power packs or supply units are designed to support different types of LED lights to enable them to operate in emergency mode.
The inverter of the LED emergency light conversion kit charges the battery and keeps it on standby when the main power supply is available.
When the main power supply is disrupted, the inverter automatically uses the battery power to light the LED bulb or lamp. With a battery of different capacities, the inverter is able to provide backup for 1 to 3 hours.
Benefits of LED emergency conversion kit
The easy and convenient way to convert the regular LED lighting system of your business to an emergency is to buy an emergency conversion kit. Buying an emergency conversion kit is a smart business move because of the benefits they offer. The benefits of buying an LED emergency conversion kit are:
1. Lighting is always there for business work continuity
By using an LED emergency conversion kit, you can easily convert your regular LED lighting to an emergency one. By converting the lighting system to an emergency, the light will always be there for business work even when there is a disruption in the main power supply.
So, the business productivity will not suffer due to power outages or failure of lighting.
2. Your investment can be recouped.
You can't get away from the cost of buying an LED emergency conversion kit. However, that is a smart investment and you can quickly recoup that.
There will be an increase in business productivity with the uninterruptable availability of lighting. There is no guarantee but you might also find a reduction in your insurance premiums.
3. Available with different types of battery
Emergency conversion kits come with different types of batteries with varying capacities, prices, and a number of cycles.
You can choose an emergency conversion kit with a battery that is more suited to your business use to get the different benefits:
larger capacity, cheaper price, or higher number of cycles. Commonly, three types of batteries are available which are:
Li-ion (Lithium-ion) batteries
Ni-Cd (Nickel Cadmium) batteries
Ni-MH (Nickel Metal Hydride) batteries
These batteries are safe to use and their backup duration is also different. You have to choose an emergency conversion kit with a compatible battery.
4. Option to choose kit with built-in or external battery pack
Some LED emergency conversion kits come with a built-in or integral battery pack while others come with an external battery pack. The conversion kits with built-in batteries are usually smaller and rechargeable so that they should not be replaced frequently.
On the other hand, external batteries slowly lose their performance and they have to be replaced regularly.
So, it's up to you to select an emergency conversion kit with a built-in or external battery pack based on your preference and needs.
5. Other benefits
The battery energy of the conversion kit is usually high and you can use emergency lighting for a long duration.
Using this form of LED emergency lighting is also environment-friendly and helps you to reduce energy bills with LED technology. Also, the emergency conversion kit is easy to carry and have long shelf life.
Conclusion
Hope this article is helpful for you to know the benefits of buying an LED emergency conversion kit for your business lighting. By using such a conversion kit, you don't have to replace the existing lighting system with new ones.
The emergency conversion kit will prevent your business from suffering power outages and help your business to increase productivity.
Contact & Get a Quote from Sanforce for any kind of emergency lighting products. Sanforce Technology is a top manufacturer & distributor of quality and cost-effective LED emergency conversion kits, emergency driver or ballast, and other emergency lighting products.