Emergency Light Testing
It is important to maintain your LED emergency lighting system to make sure that lighting fixtures are working normally and the battery can provide backup for the full intended duration during the time of power disruption. The periodic checks of the lighting system should be carried out by an appropriately qualified person.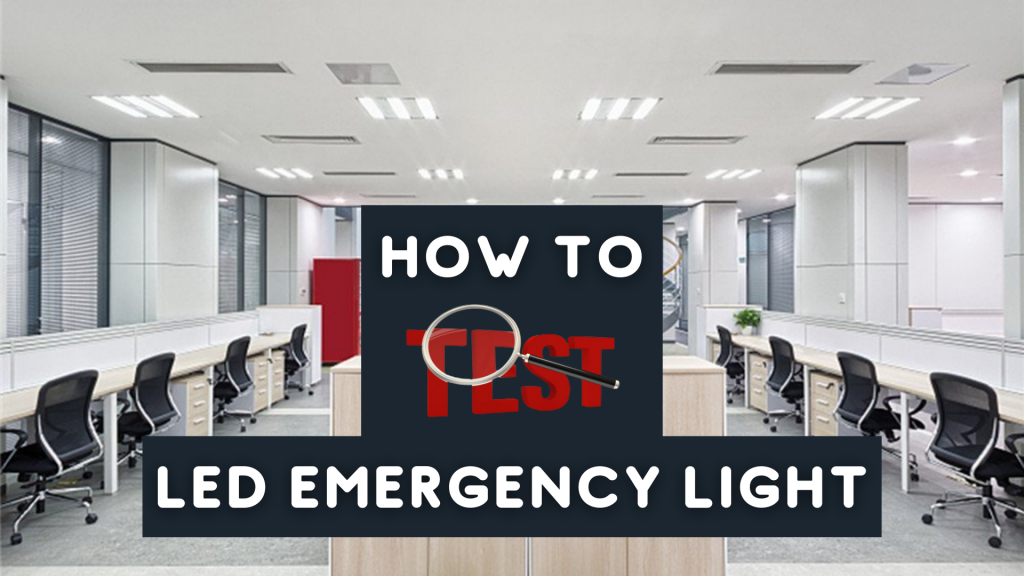 How to Test Emergency Lights?
Emergency light testing can be either manual or automatic.
Manual Testing
You can test your emergency lights in 2 ways: using the test key switch or checking the electrical distribution board.
For testing the emergency light or LED emergency battery pack by the first method, you have to click the test key into test mode after putting it into the key switch. By doing this, the lighting system will simulate as if the power has been cut off and the emergency mode is on. If all the emergency light fixtures or bulbs are working correctly in this mode, you can switch the test key back to normal operation.
The second method for testing is to check the electrical distribution board and turn the circuit related to lighting off. The effect is the same as that of the first method with a key switch. You can turn the circuit back on after ensuring that all emergency lights are working properly.
There are different types of an emergency lighting systems and most of them are generally inspected and tested in a similar fashion.
Self-testing LED Emergency Lights
If you install self testing led emergency lights, the testing will be quicker. This lighting system checks its own functionality and circuity. If any fault is found out, the system generates both an audible and visual warning.
Purchasing such self-testing led lights can minimize labour cost and time although the initial cost might be higher.
The benefits of self-testing led emergency lights are:
They are easy to install. Data cables and key switches are not required.
They are convenient to use and test. Mandatory tests of the emergency lights can be carried out without interrupting their normal operation.
They have an automatic self-test feature. So, this replaces the monthly and annual manual tests.
They identify faults in light units that need maintenance. So, this saves the time of maintenance personnel in searching the location for faults. Also, they don't have to inspect every lighting unit for faults.
They save the maintenance cost as there is no need for personnel to start a test and check for faults. They are only needed to correct faults and reset the emergency lighting system.
Now you know how emergency light can be tested, below we have answered some frequently asked questions regarding emergency light testing.
Emergency Light Testing FAQs
Who Can Test Emergency Lighting?
A licensed electrician should be used to test any type of emergency lighting circuit like an LED emergency light conversion kit and circuit. There are requirements for testing emergency lighting circuits mentioned in the AS/NZS2293 standard. So, only an appropriately qualified person should be used to test your emergency lighting.
How Often Should Emergency Lighting Be Tested?
All types of emergency lighting units should be tested at least once a month. The duration of the test should be sufficient to ensure that emergency luminaires are working correctly.
How much does it cost to test an emergency light?
The costs for testing emergency lights vary depending on the type of systems and products and the duration of testing. It is recommended that you select a licensed and reputable contractor for testing your emergency light who is able to provide references.
For manual testing, you can be charged a call-out fee plus either a flat fee that depends on the number of fittings on the location or the hourly charge rate. Remember that testing alone costs and there will be additional costs for maintaining or replacing products.
What to do if I find out an emergency light is not operating correctly?
If you find out that any fittings in your emergency light system are not operating correctly, report the issue to the maintenance contractor or responsible electrician. Since some issues can pose a safety risk, do not ignore such issues.
Where do I buy LED emergency light products?
You can buy LED emergency light products from electrical wholesale branches. You can remember Sanforce for your emergency lighting solutions. Sanforce has been manufacturing and delivering a wide range of emergency lighting products meeting lighting requirements of many customers.