LED is the latest technology used in many commercial and business lighting applications because it is more energy-efficient and durable than other available lighting options. Businesses can minimize their electricity bills to a significant extent by switching to LED technology. Upgrading to LED is one of the smart business decisions of today.
If you haven't switched your lighting to LEDs, then you might consider an LED upgrade. For an LED upgrade, there are two options available: Integrated LED fixture and LED ready fixture. If you don't know which one to opt for, then this article will be helpful.
On a side note, if you want to convert your normal LED fixture into emergency LED fixture that is able to provide light when there is disruption in main power supply, you can use emergency light conversion kit.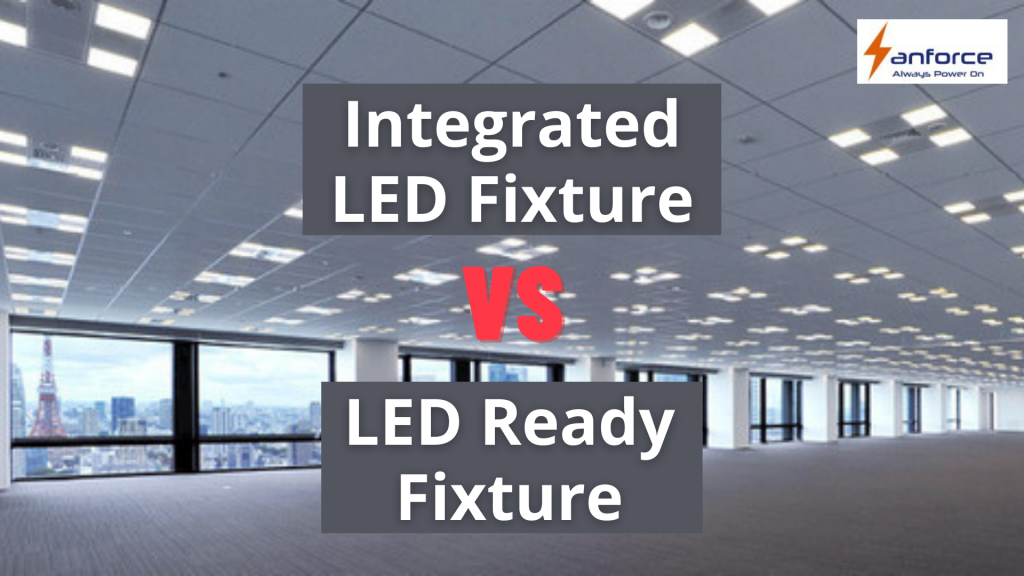 Integrated LED Fixture
An Integrated LED fixture is a fixture that already contains LED arrays built into it. Generally, this type of fixture doesn't contain replaceable LED bulbs and produces specific lumen output and colour.
LED integrated fixtures can generally last for a decade or more. If they are expired, you have to buy a new LED array or module instead of replacing an LED bulb.
Pros of Integrated LED Fixture
1. There is no need to buy a separate LED bulb and install it as the LED technology is embedded in the integrated LED fixture.
2. It is "plug and play" and you don't require additional parts as it is already a complete unit. You can turn on the integrated LED fixture by just plugging in hardwire or corded models to the electricity of your room.
3. The installation of an integrated LED fixture is quick and easy. This type of fixture is ready to install.
4. An integrated LED fixture generally costs lower than the combined prices of an LED-ready fixture and bulb.
5. Since there will be no bulbs or parts for replacement, the maintenance cost will be reduced.
6. Theft reduction of LED bulbs. So, an integrated LED fixture is more suitable to use in public areas from the perspective of theft reduction.
Cons of Integrated LED Fixture
1. When the LED strips burn out, you need to replace the whole fixture.
2. There are limited choices and designs available for integrated LED fixtures.
3. This type of fixture is designed to produce specific lumen output and colour temperature. You are unable to modify the fixture to obtain different lumen output and colour temperatures.
4. Although manufacturers are moving toward the LED arrays or fixtures that can be replaced or switched out with new parts, this plan doesn't seem to work in the long run. It is because there would be changes and upgrades in LED technology in the long run and a new fixture would be a better choice after many years.
LED Ready Fixture
This type of fixture doesn't come with LED bulbs and is designed to be used with LED bulbs. The advantage of opting for LED ready fixture is that you can choose the appropriate LED bulb based on your requirements as long as the wattage, shape and size of the bulb are right.
In the case of LED ready fixture, it will be easier for you to replace the LED bulb after it burns out than replacing the entire LED module or array which you have to do in an LED integrated fixture.
Pros of LED Ready Fixture
1. When the LED bulb burns out, you only have to replace the bulb and not the entire fixture. You don't need an electrician to replace the LED tube, you can do it by yourself.
2. You are able to change the lumen output and colour temperature according to your desire by purchasing new LED bulbs.
3. Since the bulbs and parts of LED ready fixtures are replaceable, this type of fixture is more long-lasting than an integrated LED fixture.
4. Upgrading to the new and the latest lighting technology will be easier in the future by just replacing the old bulbs with new ones at low costs.
5. LED ready fixtures generally have longer warranties available than integrated LED fixtures.
Cons of LED Ready Fixture
1. LED ready fixture is not "plug and play". This type of fixture doesn't contain LED tubes and you need to buy LED tubes separately.
2. The installation is not as easy as that with integrated ones. The installation time of an LED ready fixture is also longer as this requires wiring and a separate installation of LED tubes.
3. These fixtures are often larger and heavier than integrated LED fixtures as they require extra space for the accommodation of the LED tubes and the weight also increases with the weight of the LED bulbs.
Which One to Choose? Integrated LED Fixture or LED Ready Fixture
You need to consider several things to decide which type of LED fixture would be a better choice for you. There is not a single answer for all as to which one is better. An integrated fixture would be better in one case whereas LED ready fixture would be in another.
Your choice can depend on whether you have an existing LED fixture or it's a new installation for you. If you have an existing one that requires significant repairs, then it might be economical to replace your existing fixture with an integrated LED fixture.
It is important for you to take the building code requirements of your locality and make sure that your new LED fixtures comply with them. Consider the lifetime costs that include the cost price of LED fixtures, installation, maintenance cost and energy-usage costs before deciding which type of fixture would be better for you.
Also, you should take the responsibility for maintenance into consideration for making the choice. Integrated LED fixture containing LED tubes is taken more like a permanent installation and the electrician is required to be hired if you want changes to the fixture. On the other hand, only the fixture is taken as a permanent installation and not the LED tubes. The LED tubes of LED ready fixture can be replaced by the end user whenever needed.
Conclusion
We hope that this article is helpful for you to decide which type of LED fixture would be better for you by knowing about the pros and cons of LED integrated fixtures and LED ready fixtures. Contact Sanforce for all your emergency lighting requirements.
Sanforce is a leading manufacturer and distributor that offers various quality and cost-effective LED and fluorescent light products such as emergency ballast or driver to different parts of the world.